We now carry Feltman Brothers clothing on our website. Feltman Brothers was founded in 1916 to provide "high quality, exquisitely styled, hand embroidered clothing for baby boys and girls." Because of the popularity of their baby clothes that Feltman Brothers made, they also began to make christening gowns, rompers, bubbles, body suits, booties, bonnets, and blankets.
Feltman specializes in vintage styles for children that include newborn coming home outfits, layette needs, sacred occasion gowns, holiday wear, and special occasion attire. The clothing made by Feltman Brothers features hand embroidery, fagoting, smocking, fluting, and intricate open work designs. You will also find embroidery appliqués, rosebuds, pin tucks, and French lace. The clothing comes in sizes for newborns to toddlers that are available for both boys and girls.
What this all adds up to is a vintage look for your baby and every mom and grandma deserves a vintage style look that is heirloom quality for their baby to wear. And even better it is a timeless look that can be passed down to generations to come.
Some of the baby clothing from Feltman Brothers that we currently have are: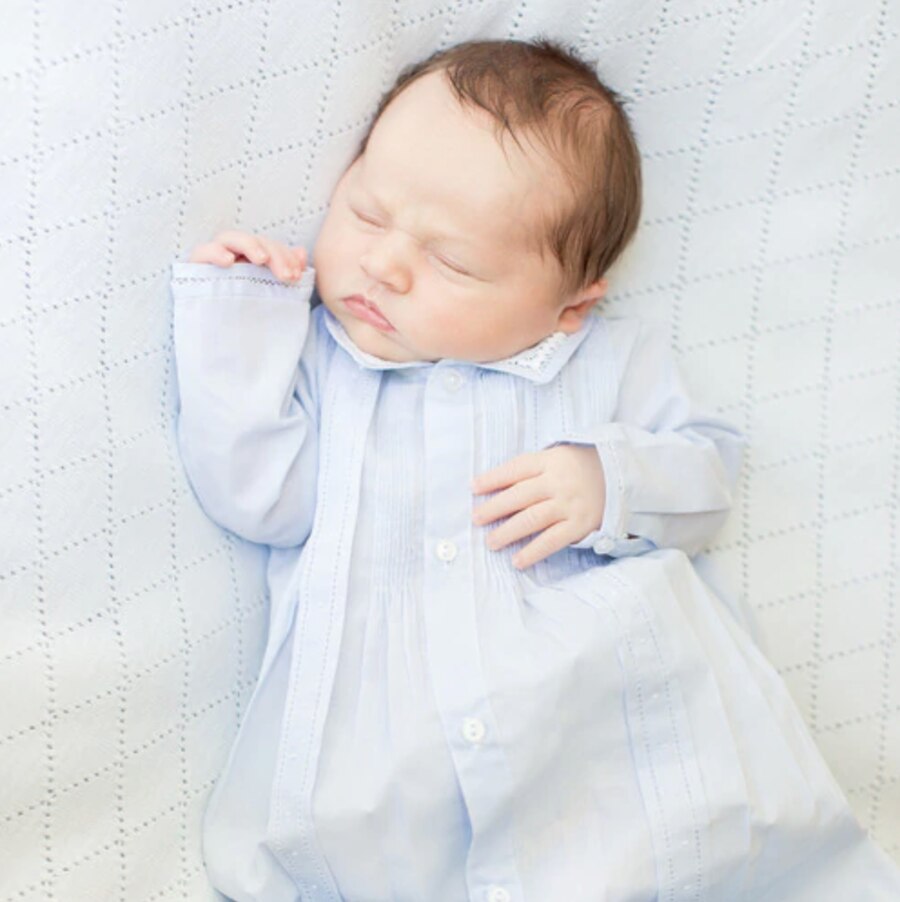 This beautiful take me home set is has a perfect vintage timeless look for a newborn. It has ric rac trim lines, a pointed collar, and delicate fagoting lines the sleeve cuffs. The front is designed with tiny pintuck on the bodice and inverted pleats going down the length of the gown, accented with dainty lace boring and a hand embroidered dot design. Understated and classy, this set is sure to become a family heirloom for years to come! (We also offer the Girls Dot Take Me Home Gown and Hat)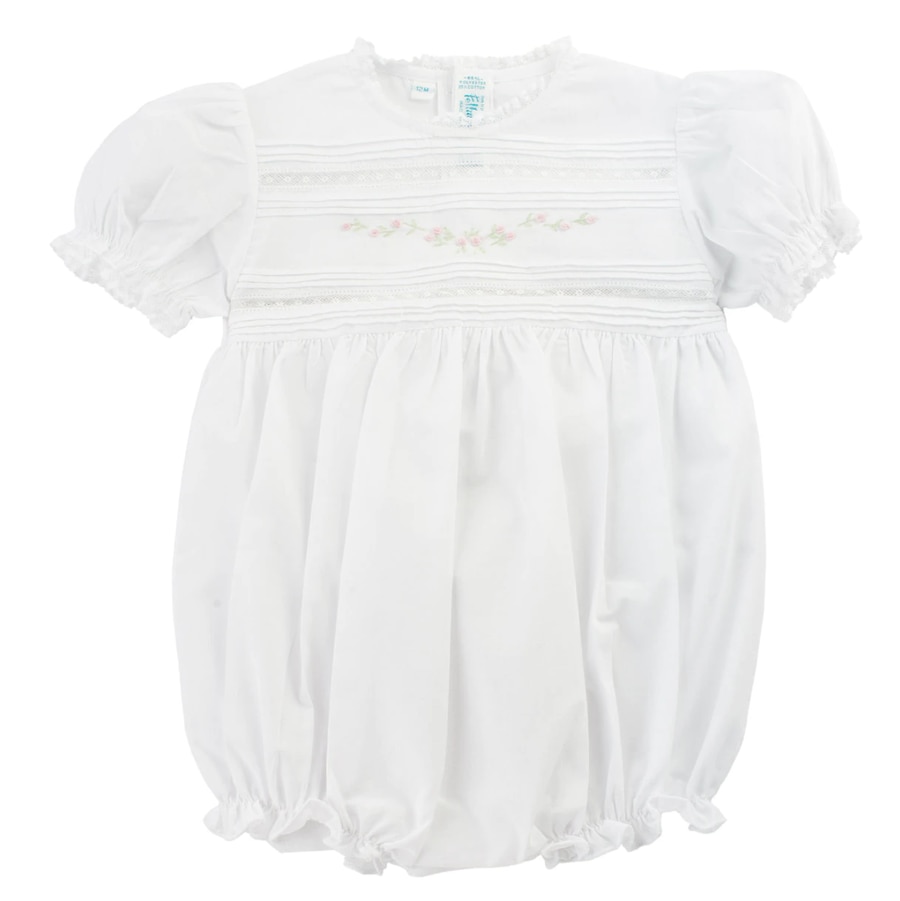 This baby bubble has a beautiful vintage look for your baby girl. This vintage style is designed with lace trimming, horizontal pin tucks, and hand embroidered floral bullions. it comes in the colors white, pink and blue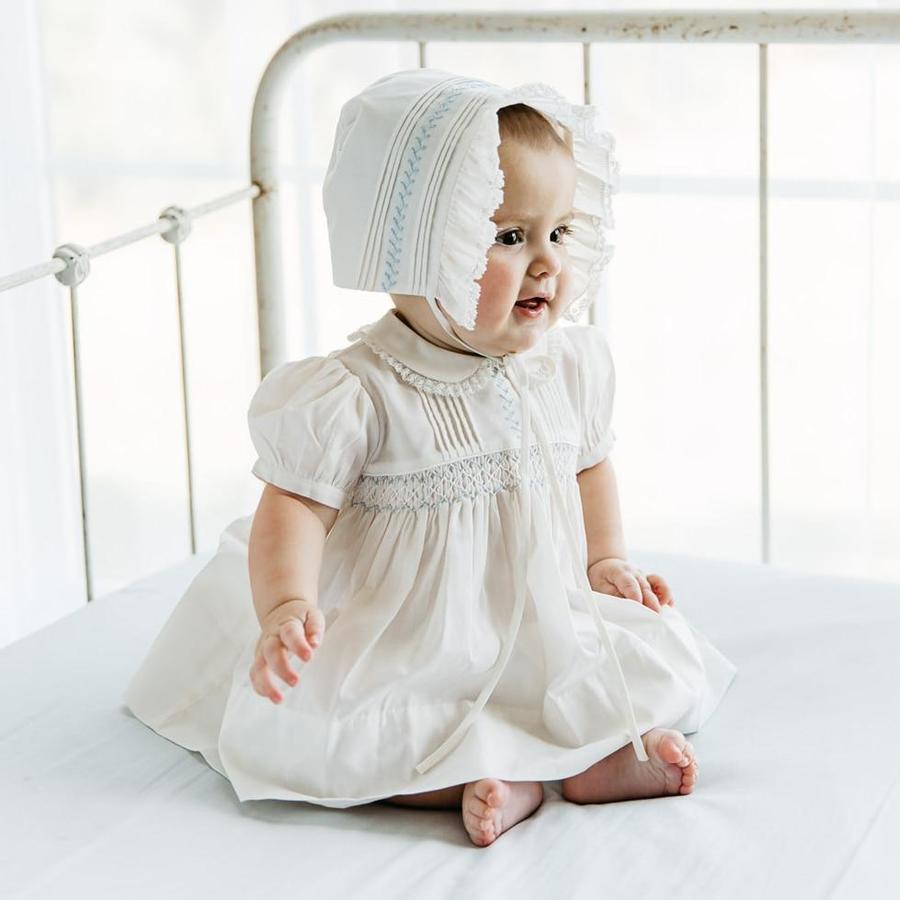 If you love dressing your little girl up in Feltman Brothers clothing, you'll love this classic dress. This elegant little girls dress has hand embroidery, tiny hand-stitched pintucks, and fluted French lace trimming the collar. The dress ties in the back with a sash and comes in sizes 12 months to 4T.
We are excited to have Feltman Brothers clothing for children on our website and we think you will too. Currently we have a limited selection of Feltman clothing, but we plan to add more in the near future.
Related Blog Posts
The Difference Between a Christening Gown and a Christening Dress

What Does A Baby Wear to A Christening

Tips for Planning a Summer Christening