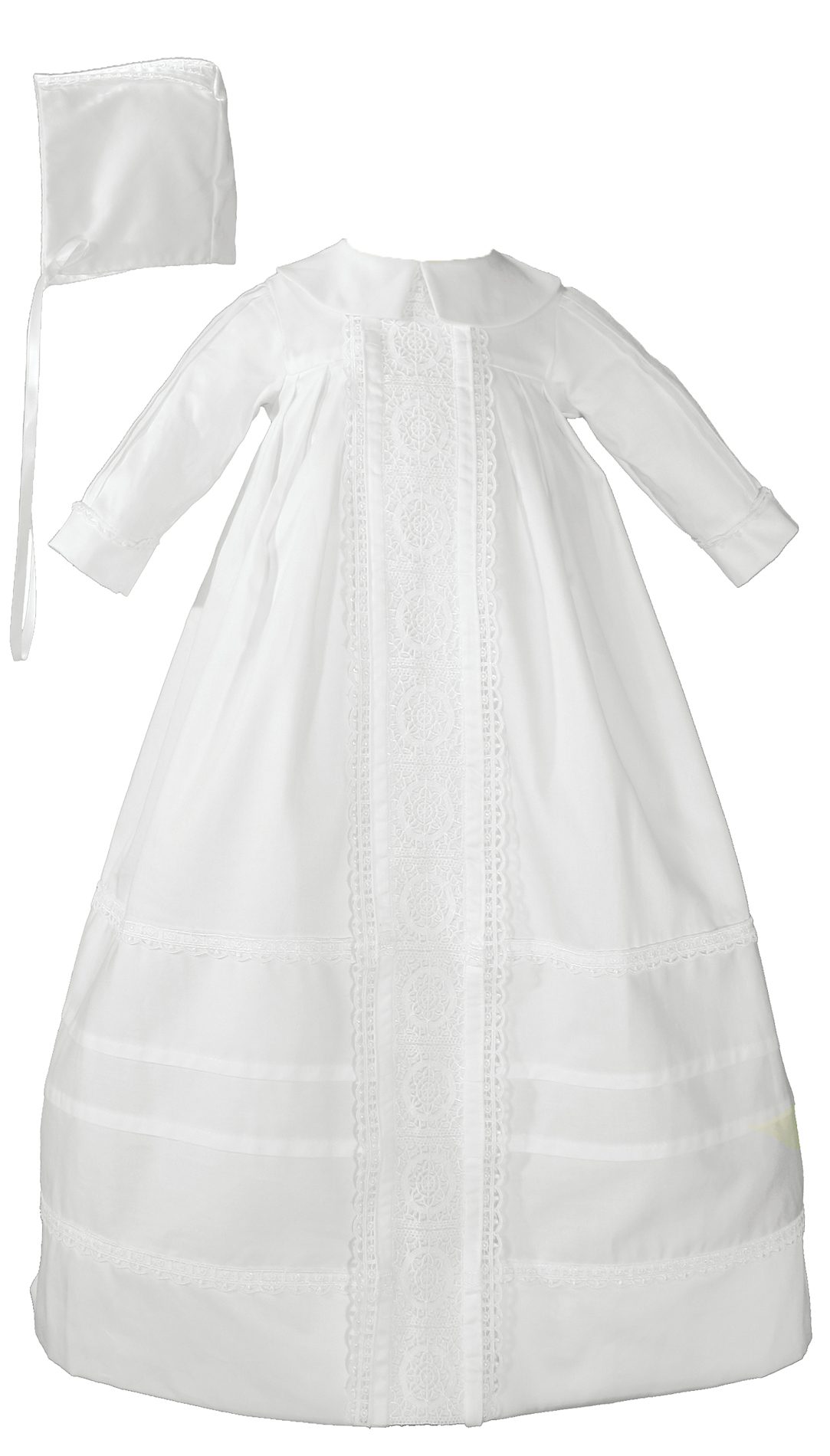 There is a lot of preparation that goes into a baby's christening ceremony. You have to choose a date and a location, plan an after-christening reception, choose godparents, and then of course there is the christening gown to purchase. Purchasing the gown for your baby's christening is perhaps the most exciting part of planning a christening. With that excitement comes questions and we want to answer those questions by telling you about the why, what, how, and where of christening gowns.
Why Purchase a Christening Gown?
The obvious answer to "why purchase a christening gown" is because your baby needs one. But the bigger picture to why make this purchase is all about creating a family tradition. The gown you purchase can become a tradition for your other children to wear at their christenings. Having such a tradition knits together the memories of each of your children's christening ceremonies. The gown you purchase becomes a symbol of those memories and the tradition for your family. In other words your children's christening gown becomes a family heirloom.
What are Christening Gowns?
A christening gown is formal religious apparel worn by a baby at his or her christening. Most christening gowns are white or a shade of white. White is the choice of color because it is a symbol of cleanliness, joy, purity, and the newness of life that is made possible by Christ's sacrifice. Traditionally, christening gowns are quite long going well past the babies feet (usually 28" - 36"). This is especially the case if the baby is still small and not crawling yet.
Gowns that have been past down through families are often worn by both boys and girls. These family heirloom christening gowns usually are hand-stitched, feature hand-made lace, and have beautiful embroidery. Usually the embroidery are symbols that are meaningful to families, such as, Celtic knots.
The very first ceremonial clothing worn by infants at a christening/baptism were swaddling bands. When full immersion for baptism became a requirement for infants it became important to remove and replace the baby's clothes quickly in order to keep them warm. This clothing that was removed and replaced was the beginning of christening clothing.
How are Christening Gowns Made?
Historically, christening gowns that were hand-stitched during or before the 18th century were very valuable, not just because of what they meant to families, but monetarily they cost a lot to make because of the labor and time required to produce them.
Today making a christening gown does not require as much labor and time. Many gowns are mass produced in China with machines. This is what helps in bringing the cost down for many gowns that people purchase today.
In addition to this, there are christening gowns that are produced with the goal of making it an heirloom quality christening gown. These gowns are carefully crafted with the best fabric with special attention given to the details of the gown so that it can be treasured by families as a family heirloom.
When choosing a christening gown it is important to know that there is a difference in quality with gowns. Often if a christening gown is labeled as an "heirloom gown" that means it is made with the goal of quality in mind.
Where to Buy Christening Gowns Online?
You can shop online for christening gowns at Children's Formal Attire. We are an online store that specializes in heirloom quality gowns made by Little Things Mean A Lot. We offer unisex gowns (gender neutral), convertible gowns, boys christening outfits, and girls christening gowns. The gowns and outfits we offer are made from silk and cotton fabrics.