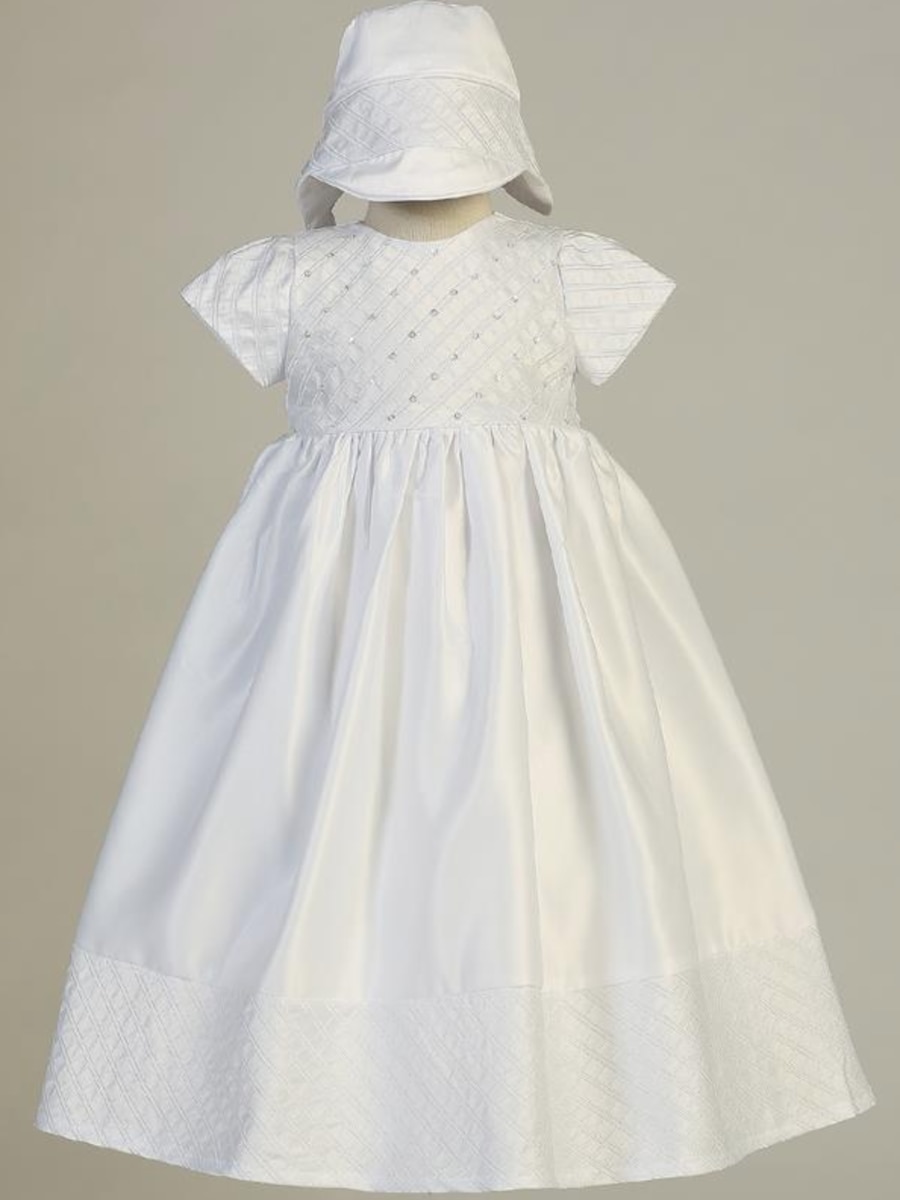 When shopping for a christening gown or a christening outfit you will probably notice that these gowns and outfits are not all made out of the same fabric material. Gowns and outfits can be made from cotton, silk, and satin.
For this post we are going to talk about why satin would or would not be a good fabric choice for and christening gown or outfit.
Background on Satin as a Fabric
First some back ground on satin. When we talk about satin, it is the weave that is used that makes satin, satin and not necessarily the type of fiber used in the weave. Satin fabrics can be made from nylon, polyester, and silk. Some fabric enthusiasts will say satin can only be made from silk.
Traditionally satin is used in women's apparel such as evening gowns and blouses. Satin is also used in men's boxer shorts, shirts, and neckties.
Satin Christening Gowns
So why choose a christening gown made from satin? That's a good question to ask. There are pros and cons for satin gowns. first the pros. A christening ceremony is an important life event and as such we want our children to look the part. Christening gowns made from satin look the part because they have a smooth and lustrous surface. Not only do satin gowns look the part, but they also have a luxurious feel when touched. The drape of satin is a high drape, which which matches the importance to the occasion.
With the pros come cons when it comes to satin fabric. Satin gowns can be high maintenance. Satin is high maintenance because it frays easily. Because of the high maintenance issue with satin, one thing to consider is the age of the child to be christened. If the child is a newborn or a baby, then most likely the child will be in his or her mother's arms for most of the christening. As a result, it is less likely that a satin gown will fray and be damaged. If the child is older, then he or she may want to crawl around on the floor or even walk if they are at that stage of development. This crawling and walking means a satin gown is more likely to be damaged
The good news however is that a christening gown is only worn for a short time period at a christening. After the christening, christening gowns are often stored away for future use for another child or for posterity. Due to this low usage, gowns made from satin are less likely to fray or snag.
Satin Christening Gowns We Offer:
Girls White Embroidered Satin Christening Gown
Girls White Satin Embroidered Lace Christening Gown
Girls White Satin and Embroidered Organza Christening Gown
Related Blog Posts: