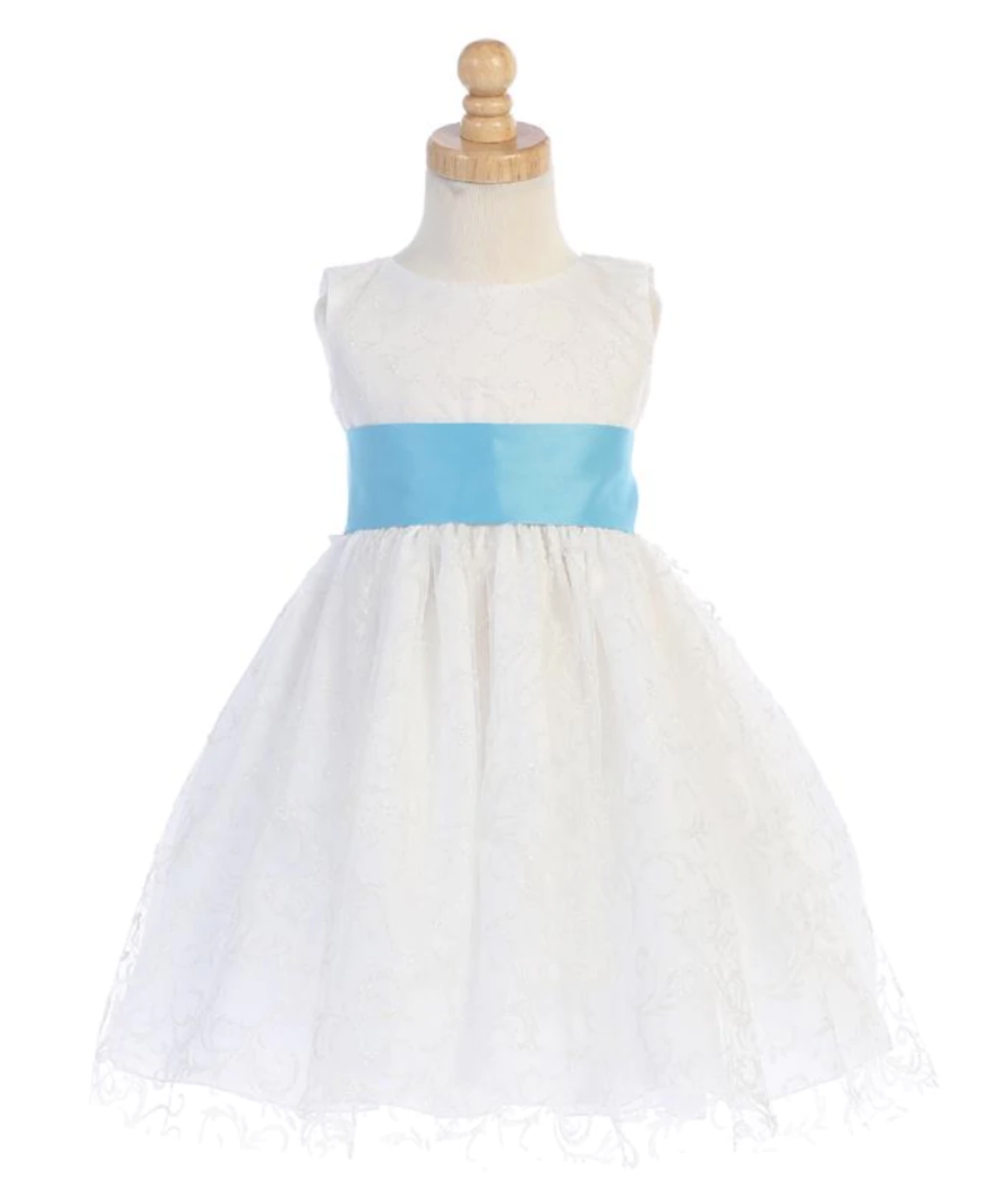 Tulle fabric is stiff, very fine, and a lightweight fabric. Sometimes tulle can be mistaken for netting. The difference in the two is that tulle is lighter than netting with smaller spacing between the threads. In essence tulle is softer and smoother than netting.
Another fabric that is often confused with tulle is chiffon. Both fabrics are used for ballerina tutus, ballgowns, and bridal gowns. Chiffon is a softer flowing fabric, that makes a dress more "spin worthy." Tulle on the other hand is more flouncy when layered which adds more structure to a dress.
Flower Girl Dresses
Tulle is a perfect fabric for flower girl dresses if the flouncy look is more desired for little girls during special occasions such as weddings, and other special occasions.
What is Tulle Made From?
Tulle is not exclusively made from a specific material, but can be made from silk, nylon, polyester, Illusion, and stretch illusion.
What is Tulle Used For?
The uses in clothing vary when using tulle. Tulle is used in skirts, couture garments, fine lingerie, bridal gowns, bridal veils, and tutus. It is also commonly used to wrap party favors, in craft projects, in floral arrangements, and in-home decorations.
How to Care For Tulle
Tulle can have embroidery done on it. If embroidery is desired you do have to be careful as the fibers can be damaged. In our store we offer an embroidered tulle dress.
An important thing to take note of when buying a girl's dress made from tulle is that can't wash tulle in the washing machine. It is only meant to be hand washed. The tumble action in a washing machine can damage the tulle fibers.
Along with washing tulle, it is important to know how to iron a dress made from tulle. An excessive heat can melt tulle fast. If there is a real need to iron tulle, set your iron to the lowest setting and keep the iron moving over the fabric to prevent melting.
Preferably, tulle that is wrinkled badly should professionally dry cleaned. A professional dry cleaner will know how to get the wrinkles out. Another alternative is to hang tulle fabric in the bathroom and run the shower on the hottest setting. The steam from the shower will get rid of the wrinkles.
Where Does Tulle Get Its Name?
The name tulle comes from the city Tulle in France. Here in this city tulle has been made for decades and is considered the best tulle you can get.